Whether you have a lounge chair, recliner chair, or L-shaped couch, what matters is how you keep these things clean. We often feel that we will do the relevant cleaning in the next week and then, in the next week we would further postpone the same. When it comes to L-shape couch cleaning you must do the right level of cleaning or else call the professionals to do the same. There are valid reasons as to why you must get your couch cleaned by professionals. Read on to know more about this.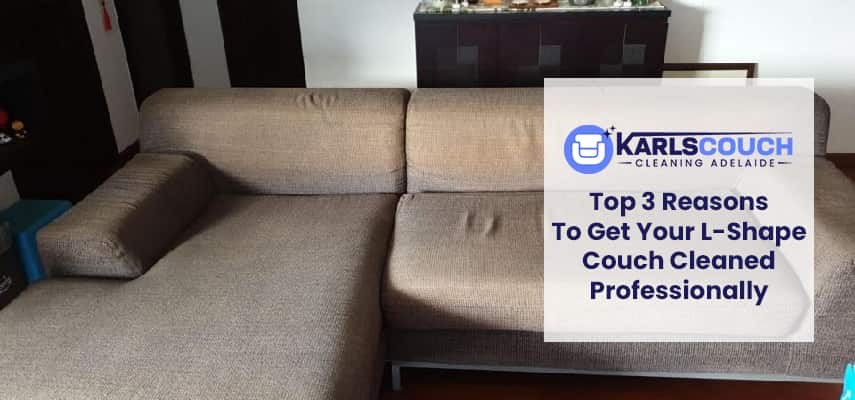 Enhances Life Span Of Your L-Shape Couch
Having an L-shaped couch at home would mean that you should maintain it well. It will take no time to get dusty and dirty. So, calling professionals at regular intervals for L-shape couch cleaning will help in getting the best results. This will enhance the life span of the couch and make it look like a new one. This is good in a way that you will not have to replace the couch too soon. You will be able to enjoy it for more time.
Provides A Healthy And Allergy-Free Environment
Having called the professionals for cleaning would mean that there will be zero dust and hence the home environment will be allergy and dust-free. If you have kids and aged people at home then you would have worries about their health. But, if you follow the right way of cleaning the couch and other upholstery items then you can keep the area dust-free. This can make the environment better.
Removes Stains That Make The Couch Look Bad
Having food stains and pet stains on the L shape couch can make it look disgusting. Since this couch will be in the living room, you would want to keep it clean to have a good impression. That's the reason why professional couch cleaning is vital as it can offer the best results. If there are any stains then the professionals know which will be the best way to clean the couch. They have some special solvents and chemicals that can help in removing dirt and stains. You would have invested a good chunk in your special L-shape couch. It is therefore vital to keep it in the best condition.
Conclusion:
L-shape couch cleaning can be tedious and that's the reason why it would be important to find a good professional service. In any premise, there would be dust and hence cleaning the same will be an important thing to do. Cleaning the couch in the right way will make it look like a new one. There would be dirt and grime and once the couch is cleaned professionally, it will look like a new one. Try and see how you will be able to get wonderful results with professional couch cleaning. Find the best and most professional company for this task. If you want to know how much does it cost to clean the couch deeply then read our blog.