What Is The Cost Of Couch Cleaning In Adelaide?
Staining your couch is inevitable, if you do not do it then your family members and kids may do it. But it should always be cleaned properly. So, the solution is that you can hire our Couch Cleaning Services which is of high quality and provides you effective cleaning and are also affordable for you. But you sometimes do not hire professional cleaners as you have a fear of high prices, but never get worried about the cost when our services are there for you as we have very low Couch Cleaning Adelaide Costs. We are always ready for you only you have to hire us and tell us about your price expectations.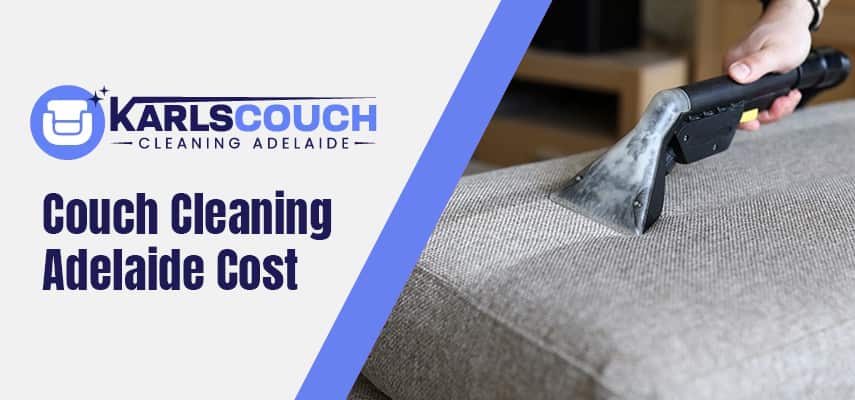 How Often Should You Clean Your Couch?
Did you know that the dirtiest furniture in your living area is your couch? But you can't help it because it is the most used furniture and everyone comes and sits there. It is always said regular cleaning is a great way to keep your couch healthy and clean and you genuinely do it but sometimes it is not effective and so you should take help from professionals. It is always recommended that the ideal time to clean your couch is between every 6 to 12 months. This time gap is enough to keep your couches fresh, clean and durable. Hence, keep your couch regularly cleaned and if it gets heavily soiled and looks dirty then contact our experts twice a year and improve the life of your couch.
How Much Price For Couch Cleaning In Adelaide?
A couch is very important for you as it is the centrepiece of your living room but highly often you think to clean it because without it a day you become helpless and so the best solution is to get our cleaning services now as we will provide you with your cleaned and fresh couch within a day. But now you stop at the couch cleaning prices. So, here we want to clear you that our Couch Cleaning Cost Adelaide depends upon a number of factors which are as follows:
Size of the couch: It means if you have a bigger couch then it costs more and vice-versa. Also, 2-seater sofas are relatively cheaper than 4-seater sofas and L-shaped sofas.
Method of cleaning: There are different prices for Steam Cleaning and Dry Cleaning of your couches.
Types of couches: As fabric couches are often difficult to clean, it costs more while leather couches are less labour intensive, hence less is the cost of their cleaning.
Problems: Stains, smells, moulds and germs are different problems. Every problem has different requirements so costs will also be different.
Now after considering these factors, if you want to clean your couch by getting our couch cleaners then our average Couch Cleaning Adelaide Cost for cleaning is $145- $300. Hence, you can get a quote from us anytime.
Why Couch Cleaning Is More Costlier Than Carpet Cleaning?
It is difficult to clean a couch as compared to carpet cleaning and so its cost is always higher than carpet cleaning. The other reasons for this are as follows:
The cleaning of the couch is much more labour-intensive than carpet cleaning and when more labour is used then obviously it costs more.
Machine or some accessories used for cleaning the couch is more as compared to cleaning a carpet.
Carpets are straight and so you can clean them very quickly but couches are very packed and so it requires more work and that's why it costs more.
Large space is required to clean a couch than a carpet and thus higher the cost.
Now, it is clear why couch cleaning is costlier than carpet cleaning.
Removal Of Stains From Couches
Common stain sources like grime and water can be removed by the method of steam cleaning while some stains are stubborn like pet urine, red wine, ink, coffee, juices, blood, rust, etc. which can not be removed easily and so this requires specialised treatments. There are many DIY procedures available for the removal of simple stains but stubborn stains can only be removed with the help of specialist cleaners. For deep cleaning of stains, you can contact our team of experts who use highly standardised procedures for cleaning such stubborn stains. Our methods and products are eco-friendly, so you have no need to worry about it.
High-Quality Scotchgard Protection Service
Fabric couches are the life of our sitting rooms but they often suffer from spillage and stains which not only look bad but they also decrease the lifespan of your couch and it becomes a breeding ground for bacteria, allergens and other infections. So, a special fabric protection agent is applied by our Couch Cleaning Company which creates an invisible layer over your entire couch which repels liquid and dirt from your couch so that any type of liquid that falls on the surface of your couch, never penetrates inside it and can be easily wiped off.
For applying it on your couch our experts first start with preliminary scrubbing and vacuuming and after that, they perform a steam sterilisation process which eradicates each and every trace of harmful microbes and other organisms by dissemination of steam at 140 degrees Celsius.
Save Costs On All Our Service Locations
We are the best team that you can hire for couch cleaning services at affordable prices. We can help you to save costs in all these service areas.
Welland
Unley
Millswood
Maylands
Erindale
Christies Beach
Prospect
Craigmore
Highbury
Magill
Burnside
Glenelg
Grange
Norwood
Mount Barker
Happy Valley