Burnside's No.1 Upholstery Steam Cleaning Service
To begin with, we all know that apart from providing us with warmth and comfort, which is the main role of upholstery, its other role is to make the furniture look pretty so in a way. The upholstery that we use on our furniture in a way does the job of home décor as well. Furniture that we sit on is supposed to be comfortable but in the case of a few ones like plastic chairs or metal furniture. Karls Couch Cleaning Adelaide works with professionals who are certified and have years of experience in furniture upholstery steam cleanings. Call us at 08 6029 4649 anytime day for booking service and we will be there at your doorstep on the same day within an hour or so. Therefore, we are said to provide the best upholstery steam cleaning service.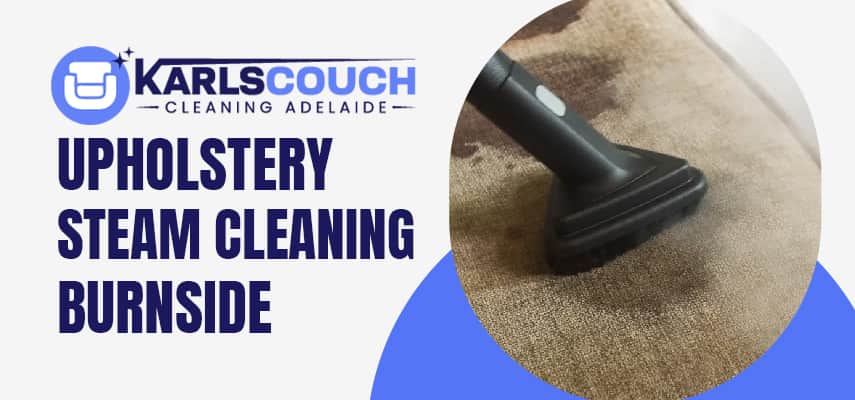 Importance of Professional Upholstery Steam Cleaning Service
Cleaning upholstery might be a hectic job and it might be very time-consuming as well. Therefore, maybe sometimes it is better to get professional help. If you are wondering which company to choose to get a proper satisfactory service, then you can choose us.
Avail Of Same Day Service For Upholstery Cleaning
We are aware of the fact that a crisis can occur at any moment of the day and hence, our workers work round the clock to provide our customers with satisfactory service.
Upholstery Cleaning Services We Offer
Written below are a few services that we provide. You can go through it. This might help you while booking a service.
Upholstery Steam Cleaning
Our company believes that steam cleaning is indeed the best one among all upholstery cleaning methods. Our professionals are all well-trained and we will steam clean your upholstery with care, without causing any kind of harm to it. This is why we are said to provide the best upholstery steam cleaning Burnside service.
Upholstery Stain Removal
Stains are not that hard to remove if you are quick enough to act and remove them. We have eco-friendly ways of cleaning tough and stubborn stains. Book a service today!
Upholstery Dry Cleaning
There are a few fabrics of upholstery that are very hard to clean and hence, it is quite tough to get rid of the stains. In this case, dry cleaning the upholstery is the most effective option and we offer the finest dry upholstery cleaning in Burnside.
Removing Mould and Unpleasant Smell
When it comes to unpleasant odours, sometimes it becomes very hard to remove the smell because they enter deep into the fabrics of the upholstery. The gradual growth of mould may also be a reason for your upholstery to get damaged. Our professionals with their special techniques will easily get rid of both mould and smell.
Upholstery Shampooing
The service of upholstery shampooing that we provide is another effective way of getting rid of all the dirt and cleaning it properly. Call us for deep cleaning.
Scotchguard Protection
We also provide the service of Scotchguard protection which works as another effective method of cleaning upholstery. A Scotchguard protector makes it much easier to remove the soil and clean the upholstery.
Removing Pet Odour From Upholstery
Your furry friends at home love to lay on the upholsteries and have a long nice nap. Hence, it is normal for the upholstery to smell like them. Our experts with their professional methods will help you to get rid of the pet odour from the upholstery and hence freshen the air and all over, have a fresh environment.
Lounge Cleaning
You do not have to worry anymore about your lounge being cleaned as our company, a group of experts and professionals provides the service of lounge cleaning as well. Our top upholstery steam cleaning Burnside professionals can help you with that.
Cleaning The Fabric and Leather upholstery
Both the fabric and leather upholstery are of different kinds and they might be very delicate as well. Cleaning them at home without proper skill might cause damage to them. Hence, you can trust us professionals for that.
Microfiber Cleaning
You do not need to worry about your Microfiber upholstery either. Because we are here to provide you with the service of cleaning the microfiber upholstery as well.
Cleaning the Office Chair
We can provide you with the service of cleaning your luxurious office chair at the office as well. Even after providing all these effective services, we believe that steam cleaning upholstery is the best way to get rid of dirt and hence we provide you with the best service of upholstery steam cleaning Burnside.
Upholstery Types That We Clean in Burnside
Our professionals are well trained and they are also experienced enough. Hence, we are capable of cleaning any kind of upholstery that exists out there. Down below are mentioned a few services that we provide.
Leather upholstery cleaning
Nylon upholstery cleaning
Microsuede upholstery cleaning
Office chair cleaning
Linen upholstery cleaning
Wool upholstery cleaning
Cotton upholstery cleaning
Synthetic Microfiber upholstery cleaning, and many more.
The Upholstery Cleaning Process
We are known for providing the best service of upholstery steam cleaning Burnside, down below are written the methods that we generally follow while cleaning your upholstery.
Inspecting Beforehand: We usually like to do a quick inspection before getting into the process of cleaning. This helps us to know what exactly the problem is and also, whatequipment we will be using to solve it.
The Test of Color Draining: The colour draining test is mainly done to decide what kind of solutions or cleaning methods we are going to use that will clean your upholstery without causing any kind of damage to it.
Pre-Treatment: A pre-treatment process is done before starting with the cleaning process. In this process, just one layer of conditioner is applied which helps in getting rid of the marks and stains.
Removing Soil: Next, a proper vacuum session is required. Use a vacuum cleaner to get rid of all of the loose dust particles and the soil that has been extracted from the upholstered furniture. Thus, this will make your upholstery look all clean and new.
Treatment of The Spot: Then we mix up a solution that suits the fibre of your upholstery and it would not cause any kind of damage to the fibre. This solution is then applied all over the stain to completely get rid of them. We usually carry on with this process only if it is required.
Drying The Upholstery: After we are done with the process of cleaning, we just let the upholstery dry. Now, this might take three hours. It depends on the climatic condition of the area. Or we can dry it with our machines, the choice is yours.
Inspecting Just to be Sure: After carrying out all the processes, we just like to do a final inspection just to be sure that all stains are completely removed.
Steam Cleaning: The process of steam cleaning is also to be mentioned as this is the process that we like to use the most. It is very effective and it gets rid of the stains on the upholstery very easily by lifting them. We are said to provide you with the best service of upholstery steam cleaning Burnside.
Our Upholstery Cleaning Service Is Active Burnside-Wide
Our company is mainly located in Burnside and therefore, our services are available here along with a lot of nearby areas. So if you are in search of any company in your locality that will provide you with a good service of upholstery cleaning then you may contact us. Even though we provide a lot more other services but the steam cleaning service is our specialty. Hence, we are known for providing the best service of upholstery steam cleaning Burnside.
Why Hire Us?
Below are a few reasons that might make you choose us.
The services that we provide are very pocket friendly and hence, you can stop worrying about the expenses while booking yourself a service.
We have a first-class rating that is provided to us by our customers who are satisfied with our service.
The chemicals that we use are all environmentally friendly and hence, will not cause any kind of health issues.
Same day/ emergency upholstery steam cleaning Burnside.
FAQs
1. How can I contact you?
You can either contact us through our website or can just call us at our toll-free number.
2. Are your services affordable?
Our services are very pocket friendly. You can easily book our service without worrying about the payment.
3. Are your professionals well trained?
All of our professionals are certified and experienced. And are all very well-trained for Cleaning upholsteries. 
4. Where are you located?
We are mainly located in Burnside and hence, we provide services here and in the nearby areas.
5. Do you provide all-day services?
We take bookings day and night from our customers and offer same-day service. We also work on weekends and public holidays. 
6. Is steam cleaning perfect for upholstery?
Most upholstery cleaning experts prefer steam cleaning in case of upholstery cleaning but it is not the only method. There are more methods of cleaning upholstery properly. Actually, the method of cleaning depends on the cloth or material of your upholstery. Our experts take decisions after checking the material so that your upholstery does not face any damage.
7. What is the cost of steam cleaning?
Steam cleaning costs may vary from upholstery to upholstery. The fabric quality, number of stains, soiled level, etc. affect the pricing. Our experts provide the best quality upholstery steam cleaning Burnside services at very affordable rates.
8. What happens after steam cleaning the couch?
Steam cleaning uses moisture from hot water to clean the stains and thus your upholstery item gets wet after cleaning. This is why you need to keep your upholstery items untouched, in the sun for about 4 to 6 hours for them properly dry up. Our experts can guide you through the process. Call for more.
Location: Burnside, SA 5066, Australia