Get The Best Furniture And Upholstery Cleaning In Highbury
The upholstered types of furniture at your home look after your comfort. The warm and comfortable upholstery relaxes your muscles the moment you return home from work or after having a very hectic day. The level of comfort that upholstered furniture provides us is indeed unmatchable. Moreover, the upholstery includes padding so it makes the furniture more comfortable when the furniture is made up of wood or plastic. Not only that, it plays the role of home décor as well. Our company, Karls Couch Cleaning Adelaide can provide you with the best service. We are the best when it comes to providing top furniture and upholstery cleaning Highbury services. So call us on 08 6029 4649 for booking a service.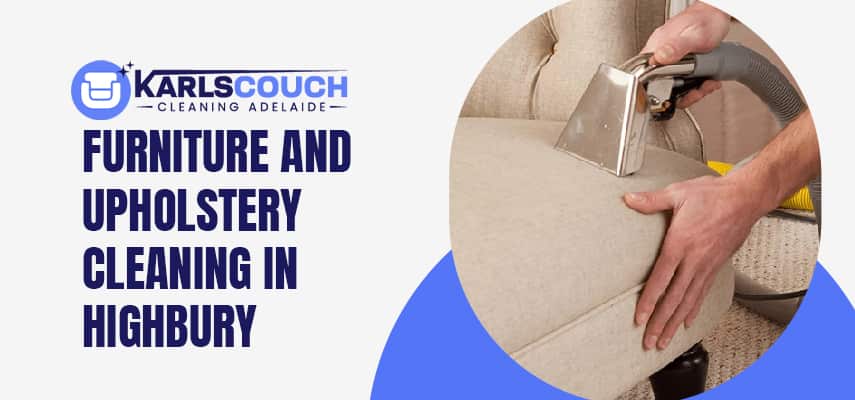 Importance of Professional Upholstery Cleaning Service
It is necessary to clean your furniture at home and take good care of it but cleaning them all by yourself at home might be a very hectic and very time-consuming job and hence, we are here to help you out.
Same-Day Upholstery Cleaning Service
We understand how emergencies can arrive without any early notice and hence, we are available for our customers day and night. Our company also provides same day couch cleaning service. Call us at any time of the day and we will be there at the given destination on the same day within a very short period.
Furniture And Upholstery Services We Provide
As mentioned earlier, the services of furniture and upholstery cleaning that we provide are the best in the entire Highbury. Given below is a list of services that we provide.
Furniture & Upholstery Steam Cleaning
The method of steam cleaning is one of the best methods of cleaning your upholstered furniture. The warm moisture removes the stain totally without releasing too much moisture into the fabric or the padding. Steam cleaning your upholstery is indeed worth the cost.
Furniture Upholstery Stain Removal
Having stains on your beloved upholstery might lower your impression when guests arrive. Hence, our professionals are here to provide you with the best service of furniture and upholstery cleaning, Highbury. Our experts with their special equipment and professional skills and techniques will get rid of the stains from your beloved upholstery.
Furniture/Upholstery Dry Cleaning
It is good news for you that our company provides dry cleaning. Upholstery can be of different types and it is pretty hard to clean a few of them which results in leaving your sofa all dirty. Dry cleaning them is one of the best methods to get rid of all the stains and marks.
Furniture/ Upholstery Odour and Mould Removal
The unpleasant odour that comes out of your upholstered furniture can be a cause of disturbance for the people living in the house and the mould that appears on the upholstery mainly because of wet carpeting. Our company will get rid of both the mould and odour and make your upholstery as good as a new one.
Upholstery Shampooing
Another best method of cleaning upholstered furniture is shampooing it. Now it is required to be mentioned that not all upholsteries out there can handle wet cleaning. There are only a few upholsteries out there that can handle this much moisture
Furniture/ Upholstery Scotchguard Protection
Using a Scotchguard protector is an excellent option for protecting your upholstery from dirt and soil and it also makes it easy to remove the dirt and soil from the upholstery.
Upholstery Pet Odour Removal
Upholsteries are like comfortable heaven for pets. They spend most of the time of the day laying on the upholstery and it is normal for their odour to penetrate deep into the fibres of the upholstery. Our techniques and equipment are indeed very effective and they will make it a lot easier to get rid of pet odour that is why we provide you with the best furniture and upholstery cleaning Highbury service.
Upholstery Lounge Cleaning
The service of lounge cleaning is also available at affordable rates. Our techniques and equipment are effective enough to provide you with proper cleansing results.
Upholstery Fabric and Leather Upholstery
Both the upholstery are different and they are to be treated differently while cleaning them. It might be a little bit tricky to clean them all by yourself at home, especially when it comes to leather. So, we will make your job a lot easier. Call us today!
Microfiber Upholstery Cleaning
Our company provides microfiber cleaning services. With proper training and experience, our experts will provide you with a service that will end up having a much better result than any kind of DIY method that you follow at home.
Office Chair Upholstery Cleaning
The professionals we work with are well-trained and they have the proper equipment that is required for a chair spa. Get your chair cleaned by professionals and bring it back to life.
Upholsteries That We Clean In Highbury
Our professionals are trained for cleaning every kind of upholstery that exists out there. Starting from cotton to velvet, our experts can clean every upholstery without causing any kind of damage to it, and hence, we are said to provide the top service of furniture and upholstery cleaning Highbury. Listed below are a few services that we provide to clean your upholstery.
Leather upholstery cleaning
Office chair cleaning
Microsuede upholstery cleaning
Linen upholstery cleaning
Nylon upholstery cleaning
Cotton upholstery cleaning
Wool upholstery cleaning
Synthetic Microfiber upholstery cleaning, and many more.
Our Furniture And Upholstery Cleaning Process
Down below are written a few methods that we follow to clean your upholstered furniture.
Inspection: At first, our experts will do a proper inspection to know what kind of furniture upholstery it is. This will help us decide what kind of techniques and equipment are required for your upholstery to get the best results.
Vacuuming: All kinds of upholstery must be vacuumed properly before starting with the cleaning. This will remove all kinds of dirt and dry soil from the fabric.
Conditioning: Depending on the type of your fabric, we will mix up a solution that will help us condition your upholstery without causing any kind of damage to it. This will help to remove stubborn spots easily.
Grooming: After that, we will gently groom your fabric using a delicate brush to loosen up the soil.
Extracting Using Hot Water: The soil is then extracted using our special upholstery tool that is mainly used and designed for fast drying. This tool works best for cleaning upholstery.
Neutralizing It: After rinsing your upholstery, the fabric is PH balanced to provide it with a soft feeling.
Removing Any Remaining Spots: After cleaning, if any kind of remaining spots is there then they are removed with our special spot and stain removal equipment. This will help to reduce any kind of further permanent stains.
Post Grooming: Your upholstery will groom in the same process to help it dry.
Speed Drying: After cleaning, air movers with high velocity are used to dry the fibres and also to promote fast drying.
Inspecting Once Again: In the end, our experts will go through all of the cleaning results along with you just to make sure that you are satisfied with our service.
Where We Are Located?
Our company is mainly located in Highbury. So we provide our services here and in various other nearby areas. If you are in search of a local company that will provide you with a satisfactory service then you can contact us. Our motto is to provide our customers with the service of the best furniture and upholstery cleaning Highbury. We will not let you down.
Why Choose Us?
Here are a few reasons for choosing us:
Our services are extremely affordable and we do not add any kind of extra hidden fee.
The chemicals that we use are all friendly to the environment and hence, it is extremely safe and would not cause any kind of health issues.
All of our professionals are certified and have years of experience in this job.
You can rely on us for professional upholstered furniture cleaning.
FAQs
1. How can you be contacted?
You can contact us through our website or can just simply call us now.
2. Are your cleaners skilled?
All of the professionals that we work with, are extremely skilled and have years of experience in this cleaning industry.
3. Are your services affordable?
Our services are extremely pocket friendly. So you do not have to worry about the expenses while booking yourself a service.
4. Where are you located?
Our company is mainly located in Highbury. So if you are looking for a local upholstery cleaning company, you can contact us.
5. Do you provide services all day?
Emergencies can arrive at any time and hence, we are available all day for our customers. Call us at any time of the day to book a service. This is why we provide you with the best furniture and upholstery cleaning Highbury service.
6. How do you use steam in upholstery cleaning?
Steam cleaning is one of the ways our professionals use to get the stains off your upholstery. In this method, our experts use steam and the moisture in it as the key element to lift the stains in the fabric without making it too wet. Thus, your fabric stays safe and the stain is also removed.
7. Do you use vinegar to clean upholstery?
Vinegar is widely known for its stain-removing qualities. It is also one of the most used elements for our furniture and upholstery cleaning Highbury experts. Our experts do not use only vinegar but combine it with other safe chemicals for better results.
8. How do you clean furniture well?
Yes, our expert professionals clean furniture as well. We use a lot of effective ways to do so. The methods include deep cleaning, hot water extraction, dry cleaning, steam cleaning, chemical cleaning, etc. You can contact our professionals for proper and spotless furniture cleaning as well.
Location: Highbury, SA 5089, Australia