Couches play an important part in living rooms. But with dust and allergens lurking around, it's impossible to keep the couches clean. Professional cleaning depends on a lot of factors like the fabric, size of the furniture, etc. But the upholstered furniture begins to wear and tear very soon. When you clean it deeply, the furniture tends to last longer.
Couch Cleaning cost depends on so many things. It makes the furniture look like the original. Whether it's the couches, sofa, or even chair, everything will look spic and span. Hiring professionals to do the work is an extremely good idea.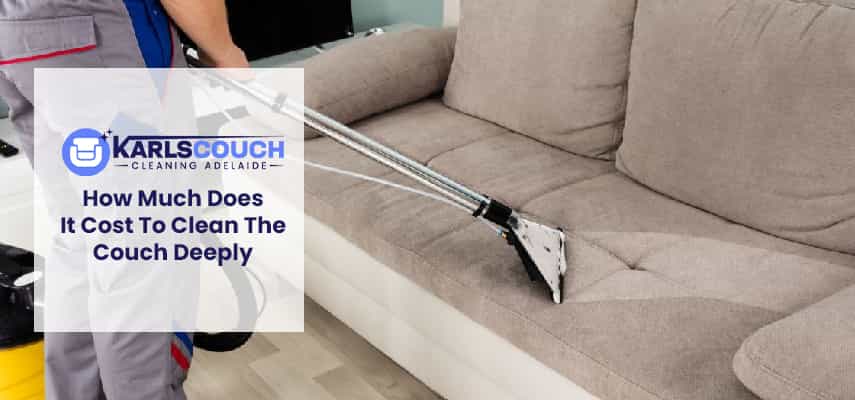 Cleaning Cost Of Several Upholstered Couch Furniture
The Couch Cleaning cost is around $50 to $300. The overall cost depends on the furniture pieces that need to be cleaned. There are different couch cleaning costs:
The armchair or the recliner costs around $30 to $50
The loveseat is around $50 to $60
Small couches are hard to clean. The cleaning cost is anywhere between $70 to $90
The larger sofas cost a lot. It is because there is just so much to clean there. The Couch Cleaning cost is around $100 to $200
Types Of Sofa Cleaning Methods
1. Hot Water Extraction Method
If you have a synthetic wool or fiber sofa, you can use the hot water extraction method. Further, the water pressure is forced directly using a powerful vacuum. When the water is sucked, it removes 95% of the moisture immediately. 
2. Dry Foam Cleaning
You can use this method for cleaning delicate fabrics that are not water-resistant. Use a vacuum and a conditioning spray on the upholstery couch to disinfect the sofa. Secondly, apply the foam on the sofa using a special machine. 
Don't touch the surfaces for a few minutes. After 10 minutes of the foam hardening, you can suck out the foam using the vacuum. The upholstery is dried and it will be ready to be used in another 1 hour.
3. Leather Sofa Cleaning
Leather outlasts all other cleaning methods if done correctly. Firstly, you must inspect the leather quality with a testing solution. Apply the foam cleaner to the furniture. You can clean dirt using a soft brush. 
The average Couch Cleaning cost can be anywhere between $23 to $150 depending on the leather type used.
You can clean the couch professionally every 6 to 12 months. Just call the professionals and they will come to your home with specialized tools. The technicians have so many detergents equipped for stain treatments. You can clean most of the stains easily. If the stain has not gone too deep inside the fabric, it is easy to get it cleaned.
Conclusion
There are various professional cleaners in the market. Everyone has different rates. But once you have made the payment, you don't have to worry about anything else. The technician will take care of even the minute things.