Local Upholstery Cleaning In Magill By Karls Couch Cleaning
To begin with, we are all familiar with the fact that upholstery is mainly used for making furniture more comfortable; So that when we sit on them after having a long and hard day at work, it relaxes our muscles. It is multifunctional and therefore, it does the work of home décor as well. In today's world, we cannot even imagine our homes without upholstered furniture. Contacting professionals will be the best thing to do in this situation and we, as a company that provides the best service of furniture and upholstery cleaning, Magill is here to help you out. Our Company, Karls Couch Cleaning Adelaide a group of experts will provide you with the best service of upholstered furniture cleaning in Adelaide. So contact us at 08 6029 4649 for booking a service.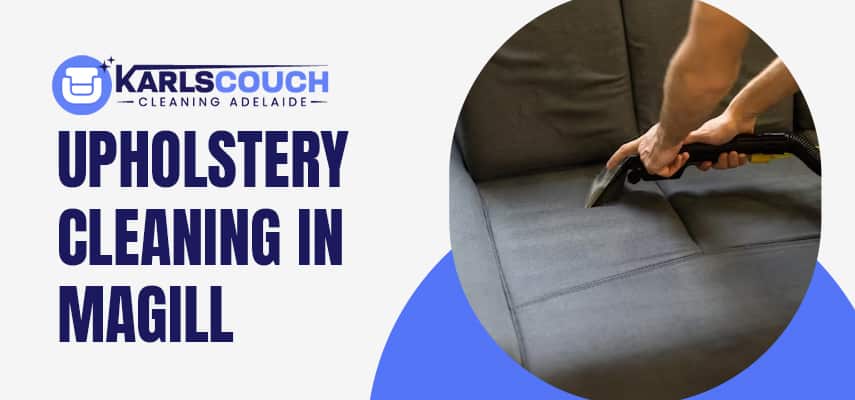 Importance of Professional Upholstery Cleaning Services
Cleaning upholstered furniture can be a tough job. It takes a lot of time and effort without any proper guarantee of providing you with the result that you are waiting for. It may cause a lot of damage to your upholstery as well.
Same Day Upholstery Cleaning Service That We Provide
We are aware of the fact that situations of emergency might arrive at any time of the day and hence, we always stay prepared. We are available all day and all night. You can call us at any time of the day and we will be there at your doorstep on the same day, shortly.
High Quality Upholstery Cleaning Services We Provide
Down below are written a few services that we provide. Service of Steam Cleaning: As professionals, we are aware of the fact that steam cleaning is one of the most effective ways to get rid of the dirt on your upholstery and we provide the service of steam cleaning.
Upholstery Stain Removal
Removing stains from your upholstery by using some household methods might be a bit tough. We are here to provide you with the best service of furniture and upholstery cleaning, Magill, and therefore we, with our special tools and methods will remove the stains easily from your fabric.
Upholstery Dry Cleaning
Professionally dry cleaning the fibre of the upholstery which cannot be cleaned properly is the best method to get rid of the stains and marks. Our company provides the service of furniture dry cleaning.
Upholstery Odour and Mold Removal
We provide the service of removing unpleasant odours and Mold from your upholstery as well. Contact us for booking a service.
Upholstery Shampooing
Another effective service that we provide for cleaning the couch is shampooing it. However, this method is only effective for couches that can hold this much moisture.
Upholstery Scotchguard Protection
The service of Scotchguard protection that we provide is another very effective method to clean your couch. Contact us for more details.
Upholstery Lounge Cleaning
Worried about your lounge not being cleaned properly? You do not have to worry anymore because we are here to provide you with a good service lounge cleaning.
Upholstery Microfiber Cleaning
The professionals that we work with are very well-trained and they can properly deal with your Microfiber couch, preventing any kind of damage.
Upholstery Fibre and Leather Upholstery Cleaning
As we all know that fibre and leather both are very delicate materials and are to be handled with care. We would not recommend anyone to deal with these without any experience. So, feel free to book us for detailed cleaning!
Upholstery Pet Odour Removal
We provide our customers with the service of removing the pet odour of the upholstery using standard methods. Contact us for booking a service.
Upholstery Cleaning The Office Chair
Are you tired of using various methods for cleaning your office chairs and yet not getting any proper results? Not anymore because we work for providing our customers with the best furniture and upholstery cleaning Magill service. We, with our professional tools and methods, can properly clean your office chair.
All Upholstery That We Clean In Magill
The professionals we work with have been trained to deal with and take care of any kind of upholstery or furniture available to you. Down below are written a few services that we provide for cleaning your upholstery.
Leather upholstery cleaning
Office chair cleaning
Microsuede couch cleaning
Linen upholstery cleaning
Nylon upholstery cleaning
Cotton upholstery cleaning
Wool upholstery cleaning
Synthetic Microfiber upholstery cleaning, and many more.
Our Professional Upholstery Cleaning Process
Down below are written a few steps that we follow while cleaning your upholstery.
Inspecting Beforehand: Before getting into the process of cleaning, we generally like to do a quick inspection gives us an idea about the type of your upholstery and also helps us to figure out what exactly is causing the issue.
Colour Fastness Test: This step is very important for us to follow as we look forward to providing you with the best service of furniture and upholstery cleaning, Magill. The dye of fabrics is manifested for determining the fastness of the colour. This step helps us decide what cleaning process will be good for your upholstered furniture.
Conditioning The Fabric: A layer of conditioner is then applied just to loosen up the tough soil. This step makes the cleaning process much easier.
Extracting The Soil: The loosened-up soil is then extracted from the fabric and the upholstery is washed properly to make it all fresh and clean.
Spotting in Our Professional Way: The spots that generally do not respond to our cleaning process and are still there even after thoroughly cleaning the fabric, are treated with our special solution for spots.
Using The Fabric Protector: Our fabric protectors resist the fabric from having any kind of further stains and marks and it also makes the fabric last longer.
Drying The Fabric: Once the fabric is cleaned, we use powerful air machines to dry up the fibres quickly.
Post-Inspection: After we are done with all the processes of cleaning and drying, we just like to inspect for one last time to be sure that we managed to clean every dirt, stain, and spot in it. This is why we are said to provide our customers with reliable furniture and upholstery cleaning Magill service.
We Serve In Magill And All Nearby Areas
Our company is located in Magill and therefore, we provide our services in here and all of the nearby areas. So if you are looking for a company within your locality that will provide you with the finest furniture and upholstery cleaning Magill service, call us. Put your trust in us once and we would like to help you!
Why Choose Us?
You might be wondering what unique things that will make you choose us for your service. Here are a few points written that you might like to go through.
The rates that we charge our customers are very low.
Our chemicals are all environmentally friendly
The cleaners are certified and experienced.
Same day and emergency furniture and upholstery cleaning Magill
Bookings are open 24 by 7. Serving weekdays, weekends and holidays too!
FAQs
1. Are your chemicals safe?
All of the chemicals that we use are completely environmentally friendly and hence, they are extremely safe.
2. Are your services affordable?
We provide our services at a pretty affordable rate so that our customers do not have to worry about payment.
3. Where are you located?
We are mainly located in Magill. You may contact us if you are looking for a local a company that will provide you with proper upholstery cleaning services.
4. How can I contact you?
You can either contact us through our website or can simply call us at our toll-free number.
5. Are your professionals certified?
All of our professionals are certified and well-trained with years of experience. You can trust us with your service.
6. What do you do to clean upholstery fabric?
The first thing that our professionals do is to check the quality of the fabric and the upholstery. This is extremely necessary to clean it properly. Our experts normally use steam cleaning methods and other water cleaning ways to spotlessly wash off any stain on your fabric.
7. Can a couch be deep cleaned without the use of a machine?
Machines are there to make our work easy and minimise your effort. You can surely clean your upholstery item without a machine but it takes a lot more time. Although it is better to use no machines if you do not have a proper one. Good thing our professionals have the latest machinery to help you clean upholstery items.
8. How much time does steam cleaning take?
Steam cleaning is one of the most effective ways of cleaning and takes a few hours if you know how to perform the cleaning techniques. This cleaning method uses steam to clean any stains on your upholstery item. You can contact our top upholstery cleaning Magill experts to serve you with the best upholstery cleaning services.
Location: Magill, SA 5072, Australia